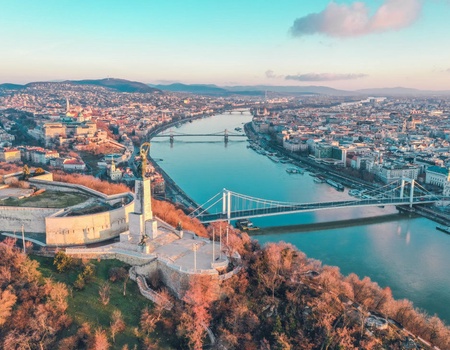 WHY INVEST IN BUDAPEST?
Despite the continuous rise in property purchase prices in Budapest, the city remains one of the cheapest capitals in the European Union.
Its average price per m2 is € 2,503 (April 2020). In the city center, in the most popular districts (1st, 2nd, 5th, 6th, 7th, 13th), the average is € 3,047 per square meter.
These prices per m2 allow a very good return on investment, which can reach 8%. (this rate depends on the location, the type of rental, the property, etc.).
The budgetary envelope necessary for the purchase of a property in Budapest is therefore lower and therefore the investment is more accessible.
VERY ADVANTAGEOUS TAXATION
- Absence of property tax and housing tax. These taxes do not exist in Hungary.
- The compulsory costs related to the acquisition are lower than in France. They are of the order of 6% (4% for the State under transfer taxes and 2% for the lawyer, who replaces the notary in Hungary).
Note that the transfer tax paid to the Hungarian state can be reduced by 50% (2% instead of 4%) if you meet certain conditions (under 35, first purchase, maximum price of the property 15 million HUF) .
- Taxation is only 15% on Hungarian real estate income while being French tax resident, thanks to the Double Taxation Agreement signed between France and Hungary.
Hungary has a single rate income tax. Whatever your income, the tax rate is 15%.
A SECURE RENTAL MARKET
The current legislation in Hungary concerning rental is clearly in favor of the owners who are thus protected. This allows a secure rental, and considerably reduces the risk of non-payment of rent. In general, all the procedures are much simpler.
The most profitable type of rental today is rental for foreign students combined with tourist rental. This makes it possible to keep an eye on the property regularly and to keep it in very good condition.
There is no overall restriction on tourist rental through Airbnb.
90% of Hungarians own their property. The rental market is therefore mainly focused on foreigners, who are more and more numerous (students, expatriates and diplomats), as well as on short-term rentals intended for tourists.
A POTENTIAL FOR INCREASED VALUE
- The price of real estate in Budapest is still low to buy and is not overvalued as in many European capitals.
- The real estate market is growing steadily, as is the country's economy
- Hungary's future plan to enter the euro zone will be a factor of added value in the real estate sector.
- The tax on capital gains is only 15% the first year, then decreases until total exemption from tax after 5 years of ownership of the property.