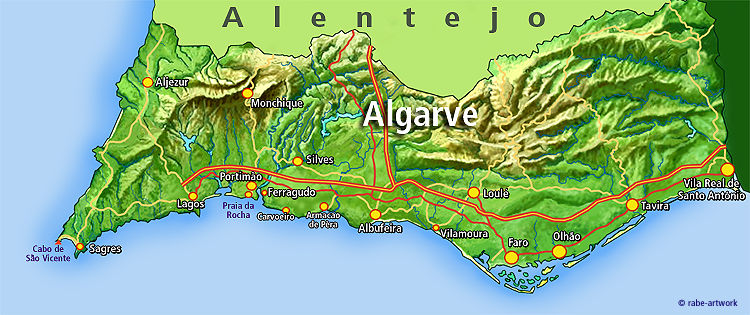 Portugal Algarve Region
This Old World region on the Atlantic Ocean is the best place in the world to retire that nobody's talking about.

This is a land of cobblestoned streets and whitewashed houses with lace-patterned chimneys, surrounded everywhere by fig, olive, almond, and carob trees. The Algarve also offers great weather, with 3,300 hours of sunshine per year, meaning more sunny days than almost anywhere else in Europe.

The Algarve's 100 miles of Atlantic coastline is punctuated by jagged rock formations, lagoons, and extensive sandy beaches, many awarded coveted Blue Flags from the European Blue Flag Association. In addition, the region boasts 42 golf courses in less than 100 miles and is generally recognized as a top golfing destination in continental Europe and the world.

The Algarve has a longstanding reputation as a top summer destination among European sun-seekers and as a top winter retreat for those looking to escape Northern Europe's coldest months. Health care is international-standard in this part of the world, and medical tourism is a growing industry.
Cost Of Living In The Algarve

The Algarve, Portugal, is the best retirement option in Western Europe for the retiree on a budget. The cost of living in Portugal is among the lowest in Western Europe, on average 30% lower than in any other country on the Continent. A retired couple could live in Algarve comfortably but modestly on a budget of as little as 1,099 euros per month. With a budget of 1,780 euros per month or more, you could enjoy a fully appointed lifestyle in the heart of Old Europe.Expats In The Algarve

Portugal's Algarve is home to more than 100,000 resident foreign retirees. Algarve is a safe region, with very little crime and a laid-back lifestyle for expatriates. This destination caters equally to families and retirees, due to the wide variety of cultural, nature-based, sporting, gastronomic, and other activities.

Because it has Europe's best beaches, Europe's best golf courses, one of Europe's friendliest folk, Portugal's Algarve is the chosen retirement destination for more than 100,000 resident expatriates from around the world. You could join the many expats who gather for tennis at the Carvoeiro tennis club. Carvoeiro also has a well-stocked book exchange that allows expatriate residents and visitors alike to trade in books they have read for new titles. Many retired expatriates become involved in local community or charity work, there is no shortage of opportunities to contribute to society and make a real impact that will also help you integrate faster into local culture. Making friends is easy, both with the locals and the expatriates.

Thanks to Portugal's strong historic and cultural links with England, English is spoken more widely in the country, in general and especially in the Algarve, than you might expect.
http://www.sunfim-investworld.com/en/Investir-produits-immobiliers-portugal-183.html