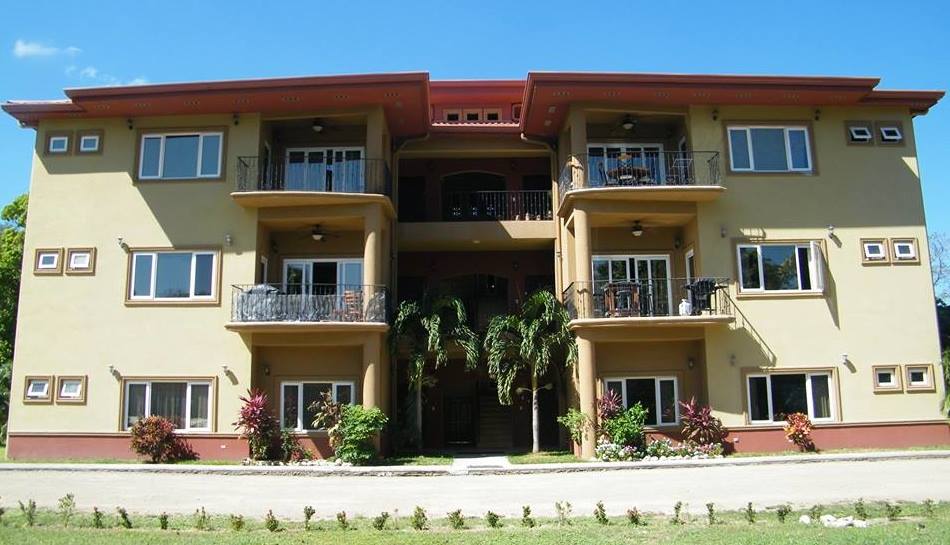 Real estate project for sale in Costa Rica Condominio Tinajas
The project '' Condominio Tinajas '' is composed of 4 phases of 6 dwellings. Each housing contains 3 wall units with air conditioning, a washer / dryer, patio or a private terrace, 2 bedrooms and 2 bathrooms, the master bedroom has a private bath and a 'walk-in' '.
On the site there is already a building with 6 apartments, a swimming pool with water jets, a rancho for entertaining, an office desk and several fruit trees and palms. Admission and parking are unistone The project is near a medical clinic, grocery store, several restaurants and distance of just 6 kilometers from the first track.
The project can be subdivided. You can buy 1 or 4 condos with the opportunity to come back to 38,200,00 per year. The land can be sold individually and build a house or an apartment building.
Special condo from $ 159,500,00 Luxurious condo of 100 m2, 2 bedrooms, 2 bathrooms, furnished or unfurnished.
Special to buy 4 condos, $ 595,500,00
Land ready to build for house or condo
Home or office for sale where to louerde 50 m2 with parking
You have the opportunity to buy in batches or in part, we are open to negotiations. Self-financing Possibility
Costa Rica = Rich Coast
Costa Rica is located in Central America between Panama and Nicaragua, bordered by two long and winding coastline bathed in the waters of the Caribbean Sea (with its magnificent coral) or in the vast Pacific Ocean. Sea edges occurring on kilometers of idyllic beaches. Costa Rica is considered the "jewel of Central America." He became one of the most desired destinations for vacationers, investors and those seeking a haven for their retirement.
This is a country that you will experience as many sensations of wonder that enchantment, but mostly it will make you live great moments of ecstasy. Its multiple climates thus provide a life as varied as nature allows, that is to say almost without limit.
With its mountains and rivers, valleys and plains, dry and humid tropical forests Costa Rica is known for harboring one of the greatest wildlife diversity of the world. Stunning flowers, lush vegetation, birds with beautiful colors, multicolored butterflies and too often unknown species.
Costa Rica is rich in spellbinding natural beauty that never cease to fascinate you. This country is full of a thousand riches. He has no army, no nuclear power plant, almost no illiteracy, lots of culture and above all ... no winter!
Why live in Costa Rica?
Costa Rica is a well developed country. A high quality of life. The Climate Costa Rica is one of the most varied and favorable in the world. The beauty of Costa Rica and its extraordinary nature. The low tax rate. (The tax is more than interesting). The high purchasing power. The real estate investment opportunities are limitless.
Medical care is excellent in Costa Rica. The education system is first rate. Business opportunities are unlimited. The fauna and flora are rich and varied (landscapes of dreams)
The beaches are numerous and beautiful. Costa Rica is a politically stable country. The population is warm and inviting. The environment is preserved there. There are many activities to do and places to visit.